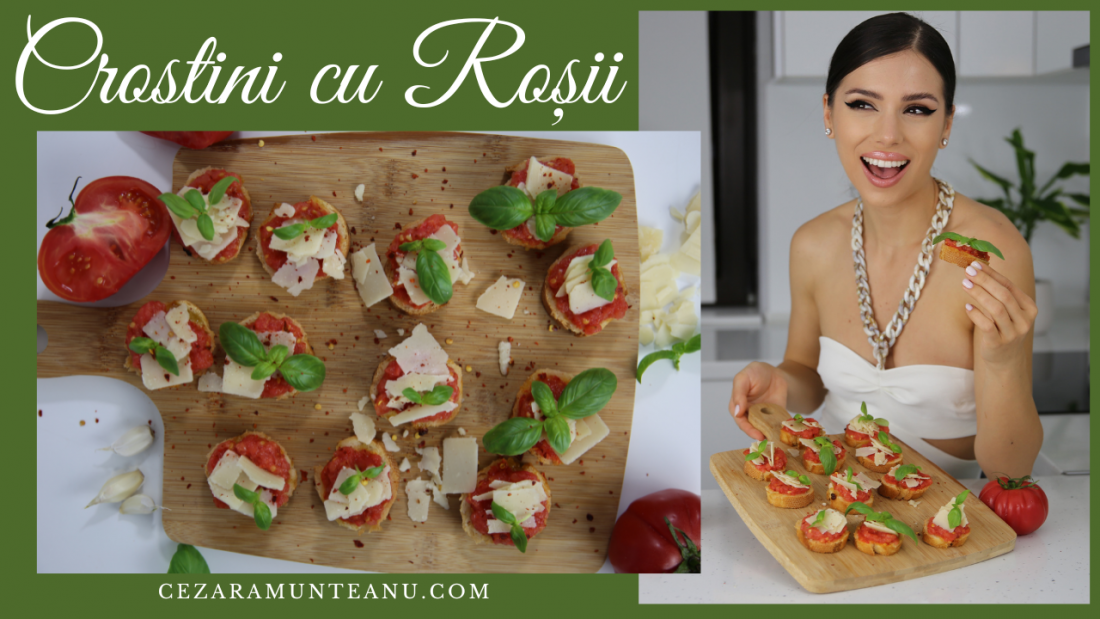 Tomato crostini (tomato bruschetta/ the best tomato parmesan crostini/ easy recipe)
The best Crostini with Tomatoes in the world!
I guarantee!
The perfect combination of sweet tomatoes, caramelized garlic, parmesan taste and fresh basil. Crostini are smaller briquettes, which also have their origins in Italy.
You also have the recipe for Tomato Bruschetta (the best recipe) on your YouTube channel, and now I upload this one too because. it's too good!
Rainbow on the roof of your mouth, eyes watering with joy and the feeling that you can't stop eating because they are too tasty.
I leave the filmed recipe here, and below you have all the details.
For about 15 Crostini you need:
2 tomatoes
1/2 baguette
4 cloves of garlic
2 tablespoons of olives
a teaspoon of honey
salt
pepper
parmesan flakes
fresh basil
Cut the baguette into round pieces.
Preheat the oven to 180 degrees.
Prepare the mixture of 2 tablespoons of olive oil, crushed garlic and a teaspoon of honey.
Spread each piece of bread with this mixture.
Grate the tomatoes, add salt and pepper.
Put a little tomato sauce on each slice of bread.
Put in the oven for 12-15 minutes at 180 degrees.
After removing the bread from the oven, put the rest of the tomato sauce, add parmesan flakes and decorate with basil.
We enjoy with whoever we want!
The perfect summer snack, the ideal aperitif for any event!
Good appetite!
I can't wait for you to tell me if you liked it.
Don't forget to ring the bell and share it with the person you would like to enjoy!
See you next Wednesday!
If you like the recipe, I invite you to subscribe to my Youtube channel!