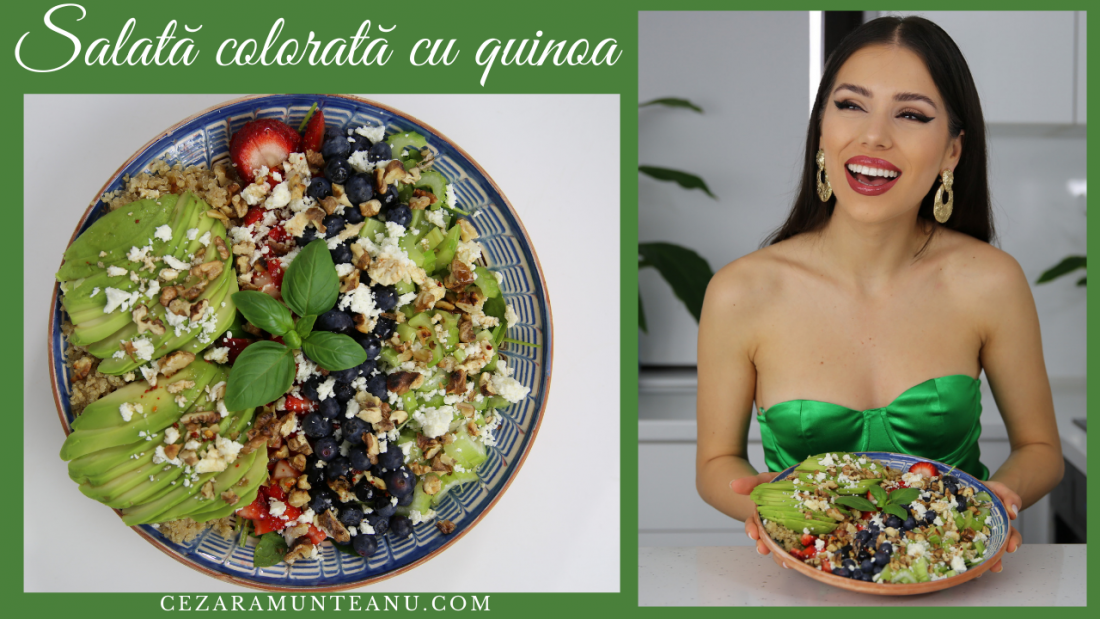 Colorful quinoa salad (strawberries, blueberries, spinach, avocado) Nourishing and delicious salad!
Hello dears,
Glad to see you on a new recipe on YouTube. This week we continue with the series of salads that will change your life.
We make a colorful salad, extremely delicious and nutritious with a combination of tastes that I am sure you will love!
If we think about salad it doesn't have to be boring or it doesn't have to be tasteless!
Don't be afraid to experiment, because we only have one life! And this combination is a bold one, but it's worth a try!
I leave here the filmed recipe, and below you have all the details.
You'll need:
an avocado
one cup of boiled quinoa (half a cup of uncooked quinoa)
half a cup of strawberries
half a cup of blueberries
2 cups spinach
50 g feta cheese (optional, if you want to be vegan / fasting is not necessary to put)
2 celery sticks
a handful of nuts
Dressing:
juice of 1/2 lemon
a teaspoon of honey
a tablespoon of balsamic vinegar
2 tablespoons olive oil
salt
pepper
fresh basil
We start with the bed of spinach, we put boiled quinoa on top.
Here's how to make quinoa.
To a cup of quinoa we put 2 cups of water. Let it boil for 15-20 minutes or for 12-15 minutes (depending on the instructions on the package). It is very important to wash the quinoa in 3-4 waters before boiling otherwise it will be bitter.
We cut all the fruits and vegetables and put them over the salad.
At the end, sprinkle with the crushed cheese, add the fresh basil and the dressing.
Arrange all the ingredients to taste.
I'm sure you'll love it!
Good appetite!
I sincerely hope you like the recipe!
Don't forget to ring the bell and share it with the person you would like to enjoy!
See you next Wednesday!
If you like the recipe, I invite you to subscribe to my Youtube channel!