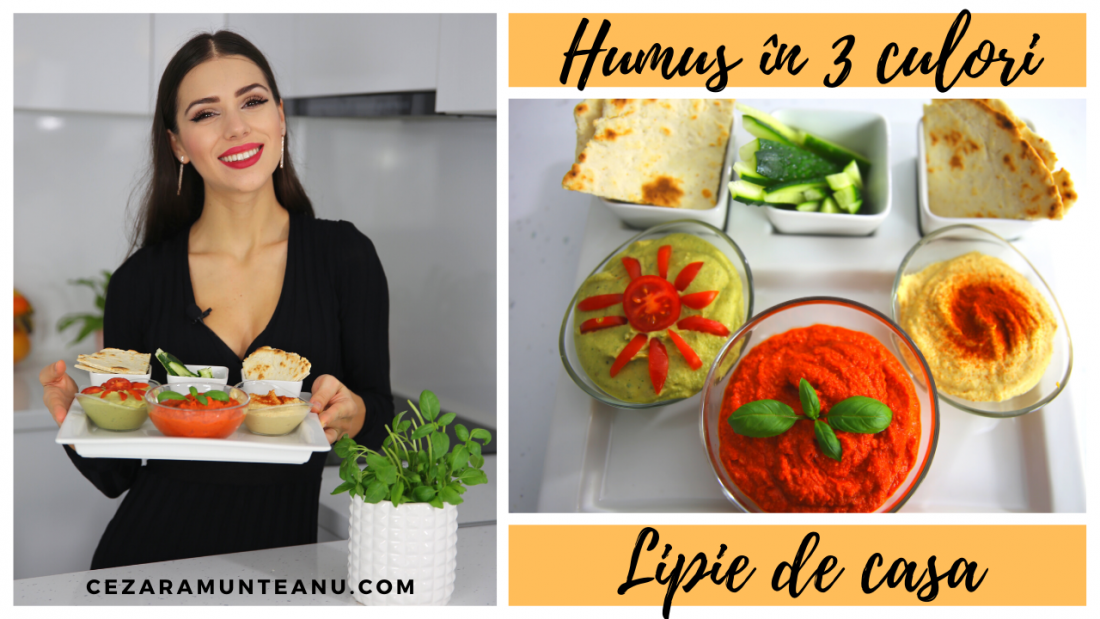 3 colors Humus and homemade Pita (Humus with Baked Pepper / Basil / Simple and Pita with only 2 ingredients)
Hello dears,
Glad to see you again in the new year at Wednesday's Recipe! As you voted, we will start the year with a recipe for something healthy and salty.
Today we will make Humus together. But in order not to seem too easy or boring, we decided to make hummus in 3 colors (with Roasted Pepper, Basil and Simple). In addition, I suggest you serve it with homemade Pita!
An appetizer that will look pretentious, but which is very easy to make and on top of that is also healthy.
Here is the filmed recipe, and below I give you all the details.

For Humus we will need:
400 grams of boiled chickpeas ( canned or you can boil them yourself)
3 teaspoons tahini paste (sesame paste)
Fresh basil
A Roasted Pepper (Red)
Salt
Pepper
6 cloves of garlic
Granulated garlic
3 tablespoons oil
For Pita we need:
A cup of flour
3 tablespoons Greek yogurt
a pinch of salt
a quarter teaspoon of baking powder
Making Humus is extremely simple! Put in the blender about 130 grams of chickpeas, 2 cloves of garlic, a teaspoon of tahini paste, salt, pepper and garlic granulated to taste and a tablespoon of oil. Mix everything until you get a creamy and fluffy paste. You can go to the quantities of garlic and tahini, that is, depending on the taste. The variant I presented to you is the one I like.
For the hummus with roasted peppers we put exactly the same ingredients as the classic one, only we add the roasted peppers. I always have baked peppers in the freezer or jar, but if you don't have them, immediately put a pepper in the pan and you have solved the problem.
For fresh basil hummus, we put exactly the same ingredients as the classic one, plus a handful of fresh basil leaves! What a smell and what a color!
That's about the hummus, put it in some nice bowls, garnish it, cut some cucumbers / carrots and it's ready to serve.
Now let's make the Pita, perfect with our hummus.
Put the ingredients mentioned above in a bowl. Stir until we get a dough that we start to knead by hand for 10 minutes. Divide the dough in half. Spread with a rolling pin, give it a round shape and bake in the pan. Leave to bake on one side and on the other, cut into triangles and then soak in the delicious hummus!
If you like this recipe, I invite you to subscribe to my Youtube channel!
Good appetite!
Dearfully,
Cezara