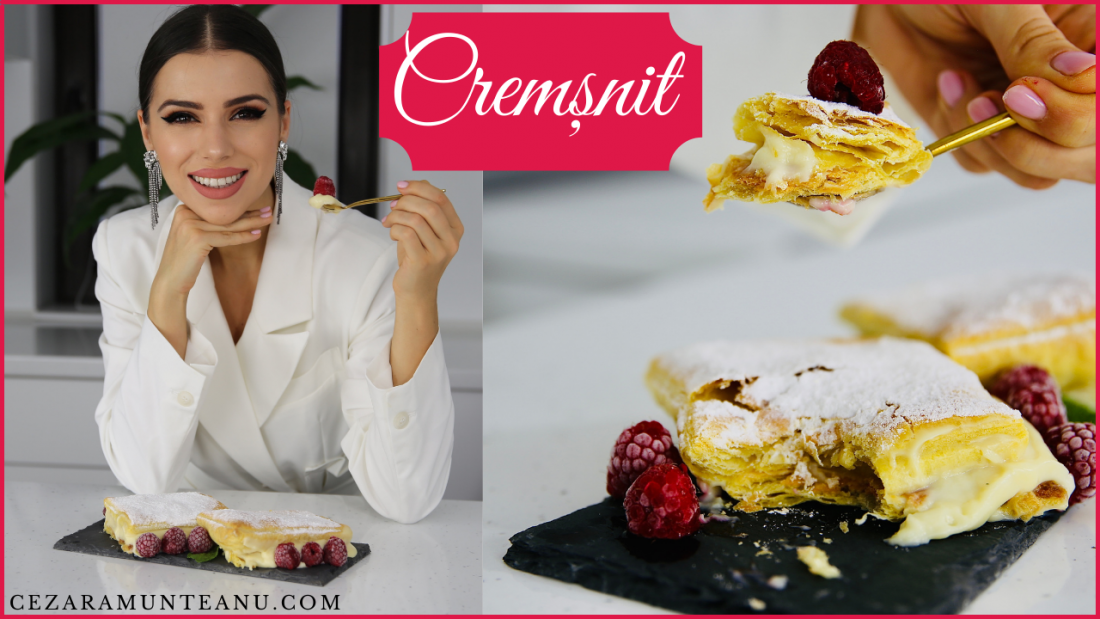 Cremeschnitte
Hello dear ones!
This week I suggest we do Cremeschnitte together.
I love puff pastry, and this dessert makes my taste buds dance, be happy, and wonder if they've gotten to heaven.
We open this Month of love with this dessert and I advice you to surprise your loved one with it.
It's extremely easy, you can't go wrong with it, so don't be afraid to try it.
I leave here the filmed recipe, and below I give you all the details.

You need:
2 sheets of puff pastry
60 g powdered sugar (with which we will garnish)
60 g cornstarch
150 g brown sugar
500 ml of milk
a pinch of salt
50 g butter
a drop of vanilla essence
200 ml liquid cream
2 eggs
Put the puff pastry in the oven. Prick them with a fork first. the top sheet can be cut in advance to make portions of the cake.
Let them cook for 20-25 minutes at 180 degrees until the sheets turn golden.
Mix the brown sugar with the cornstarch and salt. Add the eggs, one at a time. Incorporate milk and whipped cream.
Put the obtained composition on the fire and mix for 10 minutes on low heat. Until it starts to thicken. Stir continuously.
When the cream starts to thicken, take it off the heat and add the butter.
Let the cream and sheets cool.
Then we start assembling.
Garnish with powdered sugar and enjoy.
Good appetite!
If you like the recipe, I invite you to subscribe to my Youtube channel!
Don't forget to ring the bell and share it with the person you would like to enjoy!
See you next Wednesday!