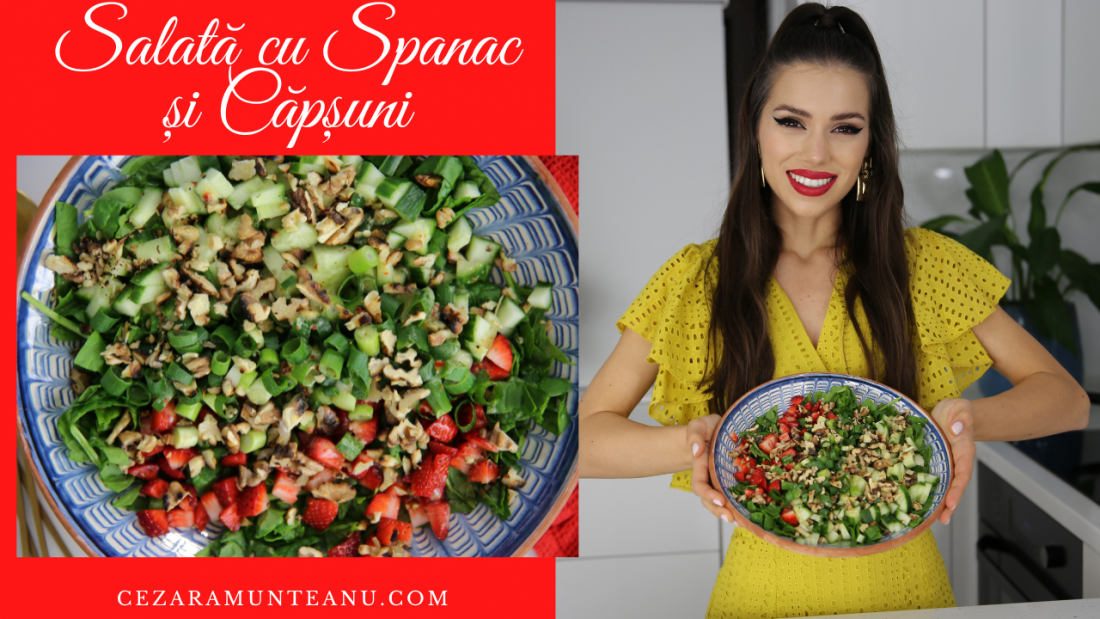 Spinach and Strawberry Salad (a light, summer recipe, extremely delicious)
Hello dears,
I'm coming to you with a salad that will change your life!
A bold recipe, an extremely delicious combination of flavors and with just a few ingredients.
That it's still season for the sweet, garden strawberries that melt in your mouth, I say it's time to enjoy them as much as possible.
P.s. Dressing comes like a dance in the sky.
I won't tell you more, I'll let you try the recipe.
Here is the filmed recipe, and below I give you all the details.

You need:
2 cups spinach
150 g cucumber
1/2 cup strawberries
a green onion
salt
pepper
Red
a teaspoon of mustard
a tablespoon of olive oil
2 tablespoons lemon juice
a handful of nuts
Cut the spinach into strips, cucumbers and diced strawberries and put everything in a bowl. Add chopped green onions.
Bake the walnuts in the pan.
Meanwhile, prepare the dressing: Mix the mustard with the lemon juice, olive oil, salt and pepper. We pour it over the salad.
Chop the walnuts and sprinkle them on top, mix and enjoy!
Good appetite!
I sincerely hope you like the recipe!
Don't forget to ring the bell and share it with the person you would like to enjoy!
See you next Wednesday!
If you like the recipe, I invite you to subscribe to my Youtube channel!