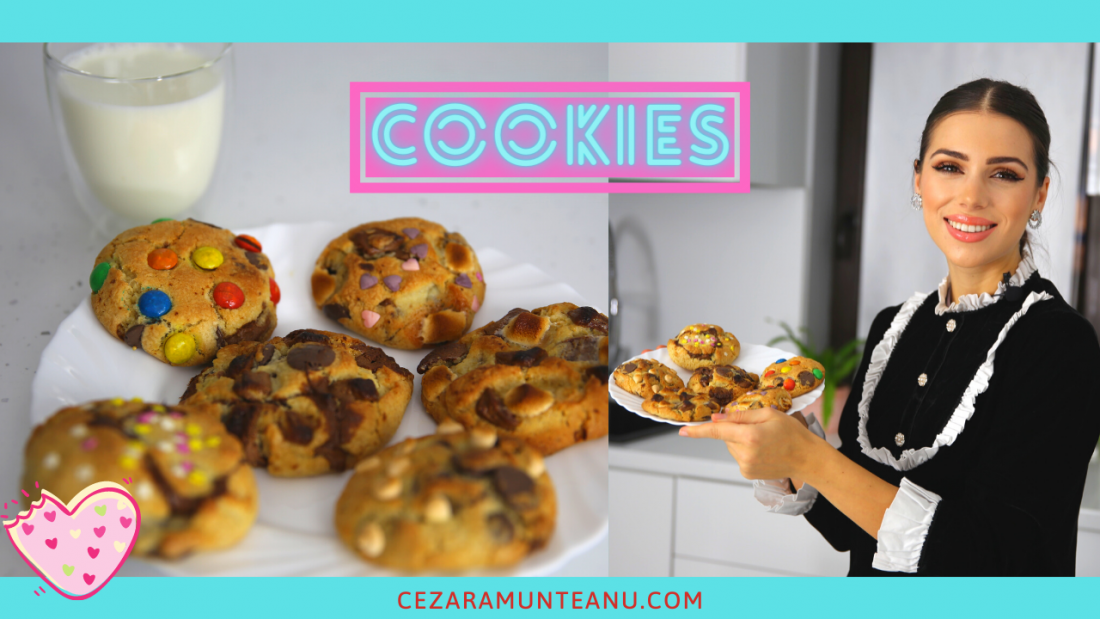 Stuffed Chocolate Chips Cookies
Sweet! Sweet! Sweet!
That's how it will be this week!
We have prepared for you this wonderful recipe for Cookies! Once you try it, you will never buy cookies from the store again! They are extremely delicious! You can eat them simple or you can fill them with all kinds of goodies!
Here is the filmed recipe, and below all the details!

We will need:
a cup of brown sugar
a cup of white sugar
a packet of butter (200 g)
two eggs
two and a half glasses of flour
a baking powder
300 g chocolate chips
a chocolate
That's what we need for classic cookies.
For the crazy part of the recipe we also need:
Nutella
Peanut Butter
Caramels
M&m's
Marshmallows
Other goodies you want to put in
Melt the butter and let it cool. In a bowl, mix the brown sugar with the white sugar, butter, eggs, baking powder and flour. Add the chocolate chips and chopped chocolate.
The composition is ready!
We take a part of the composition with a spoon, we give it a ball shape that we flatten, we put Nutella / Caramels / Peanut Butter inside it, then we form the ball again, which we sting with marshmallows or M & m's. Of course, you can also leave them classics.
After you have played with these goodies and flavors, we put them in the preheated oven for 12 minutes at 200 degrees.
I advise you to eat them hot, but they are delicious and cold! But if you don't want to do them all at once, you can put the composition in the fridge for a week or in the freezer for a month.
If you like this recipe, I invite you to subscribe to my Youtube channel!
Enjoy!
With love,
Cezara