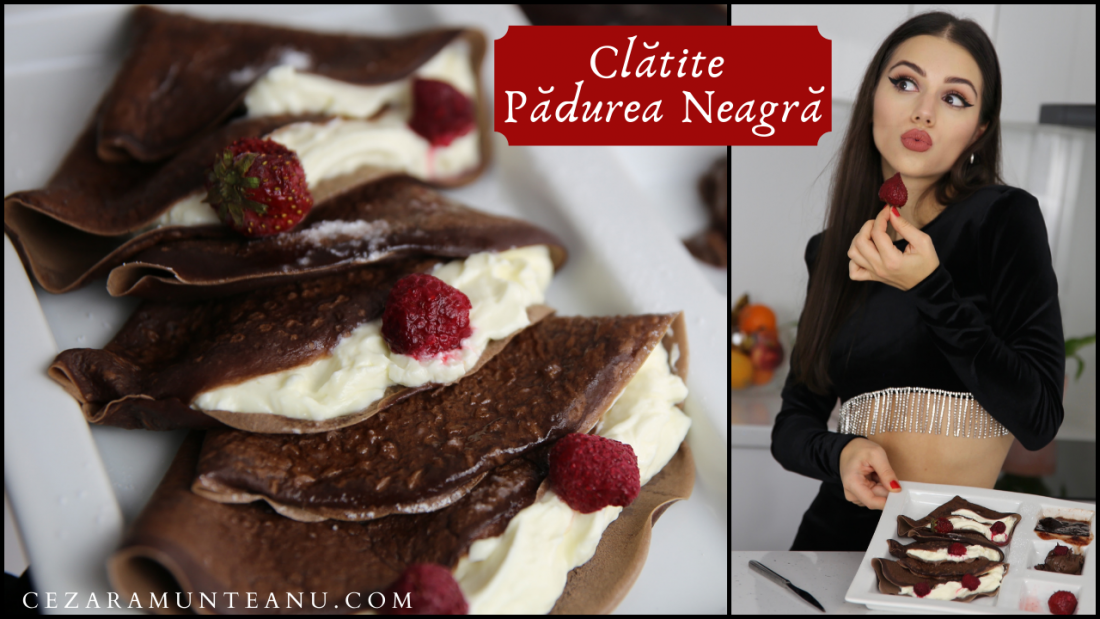 Black Forest Crepes / Cocoa Crepes, Filled with Mascarpone
Hello dears,
There is little left of this month of lovers and I suggest you make something sweet together. An extremely simple dessert to make, but a little pretentious, perfect to impress your loved ones.
Today we will make: Black Forest Crepes/ Crepes with Cocoa, filled with mascarpone cream.
Here is the filmed recipe, and below I give you all the details.

14-15 Crepes
For the composition we will need:
2 eggs
400 g of flour
3 tablespoons cocoa
a vanilla sugar
300 ml of milk
mineral water
For the cream:
250 g of marker
200 ml liquid cream
a drop of vanilla essence
100g of powdered sugar
Beat the two eggs in a bowl. Then add the milk, flour in the rain, vanilla sugar and cocoa. After mixing well, we make sure we don't have lumps. Composition is ready! So easy! Heat the pan and with the polish take a small amount and bake it (I did not use oil).
Meanwhile, we prepare the cream. Beat the mascarpone cream with the cream, sugar and vanilla essence with the mixer. Let the cream cool until all the pancakes are ready.
After we finish the pancakes, we fill them with cream, decorate to taste and enjoy!
If you like this recipe, I invite you to subscribe to my Youtube channel!
Good appetite!
Dearfully,
Cezara