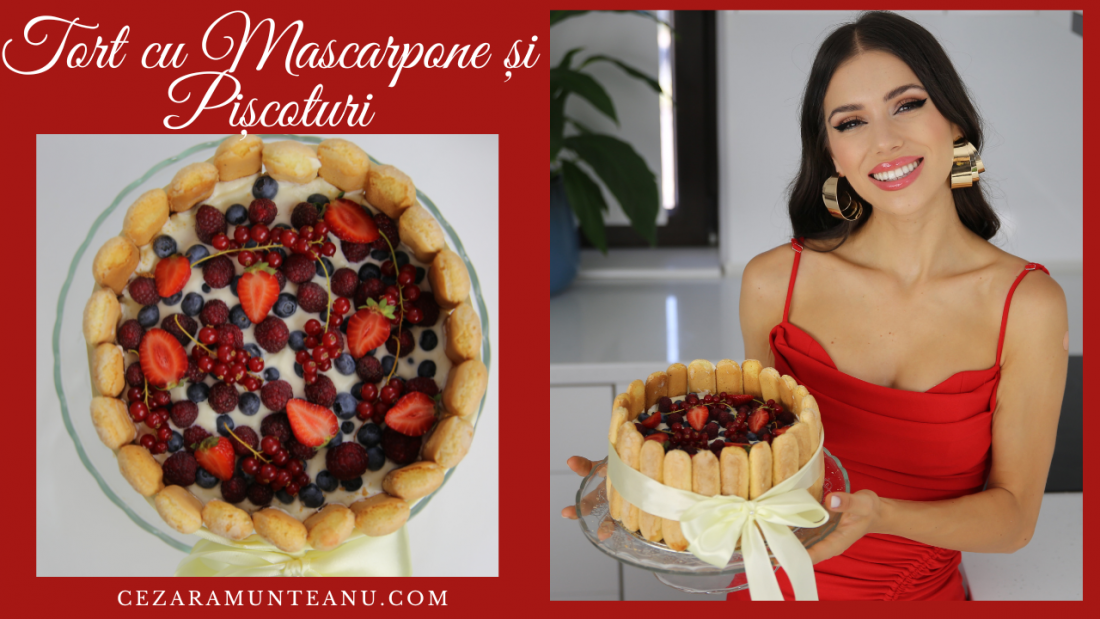 Sponge Fingers, Mascarpone and Fruit Cake (the simplest cake/ easy cake recipe/ no-bake cake)
Hello dears,
This week I come to you with a very easy cake idea.
If you are celebrating August 15th or soon or you simply want to spoil your loved ones with something super good.
Since it's hot outside, we can't really turn on the oven, so I suggest you make this fruit cake that's ready in less than 10 minutes.
I leave the filmed recipe here, and below you have all the details.
For a cake made in a 22 cm pan you need:
400 g biscuits- sponge fingers (about 44 biscuits)
For the cream:
500 g mascarpone
200 ml of liquid whipped cream
50 g powdered sugar
optional vanilla essence
For syrup: (You can also syrup with something else: milk/compote or just water with sugar)
100 g of sugar
100 ml of water
350 g strawberries
For garnish and filling:
500 g fruit, I used strawberries, raspberries, blueberries and currants.
First we prepare the syrup. we put the water with sugar on the fire, in the meantime we cut the strawberries and add them to the pot, let it boil, but do not let it reduce because we need the juice.
Prepare the cream: mix mascarpone, liquid cream and powdered sugar in a mixer.
We leave it aside until we start assembling the cake, we can leave it cold.
We syrup the biscuits one at a time. We will only syrup the ones at the base and in the composition, not the ones on the edge, because they must not soften.
After making the base of the cake, we also put the cookies all around. add a layer of cream, fruit, a layer of syrupy biscuits, cream and decorate with fruit to taste.
Let the cake cool for at least 3 hours and enjoy!
We can also put a decorative bow on it, but the cookies hold the cake without any problems.
Good appetite!
I can't wait for you to tell me if you liked it.
Don't forget to ring the bell and share it with the person you would like to enjoy!
See you next Wednesday!
If you like the recipe, I invite you to subscribe to my Youtube channel!