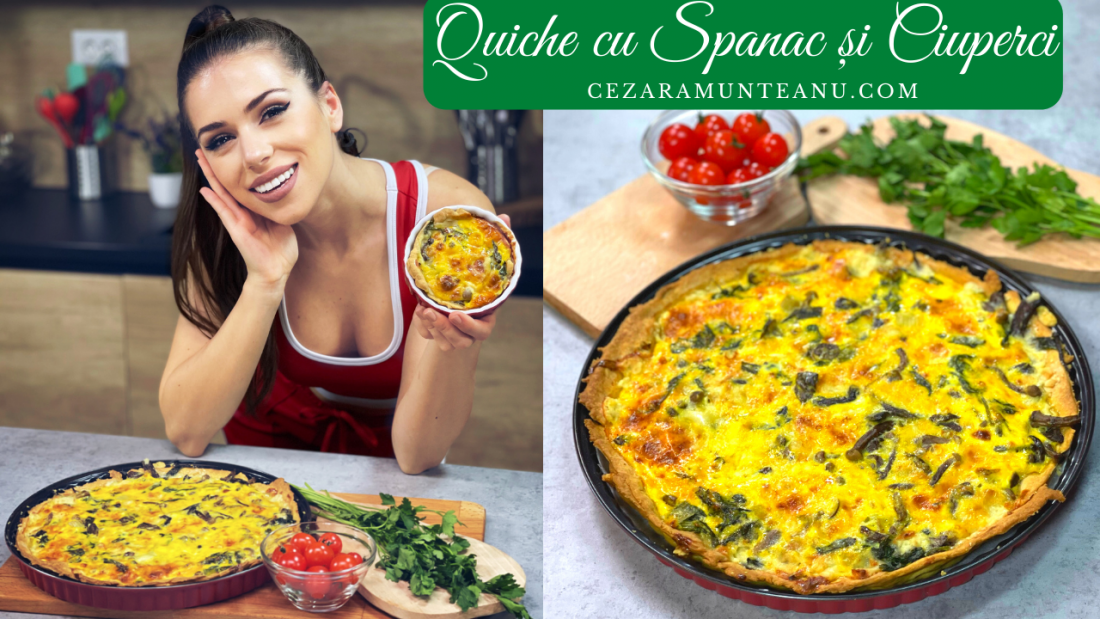 Quiche with Spinach and Mushrooms
I love this recipe! The easy option for an extremely delicious Breakfast or Bruch!
If you have friends visiting, believe me it's the perfect recipe to pamper your friends.
Let's make Quiche with Spinach and Mushrooms together!
For the Dough we will need:
200 g flour
90 g cold butter
2-3 tablespoons of cold water
1 teaspoon salt
an egg yolk
Filling:
an onion
250 g mushrooms
200 g spinach
3 eggs
2 tablespoons Greek yogurt
250 g cheese (of which you want)
First we make the dough. Mix the flour with the salt. Add cold butter and egg yolk. We will get a crumbly dough. Add 2-3 tablespoons of cold water. After we get the dough, let it cool for 30 minutes. Then we spread it out and put it in the tray. Put it in the oven for 15 minutes at 180 degrees (preheat the oven). You can put beans on it to make sure it doesn't grow.
Meanwhile, fry the onion with the mushrooms and spinach in a pan. We beat the eggs with the yogurt.
Season with salt and pepper to taste.
I didn't add salt because I used a salted cheese.
After removing the dough from the oven, add the mushrooms and spinach, cheese and eggs. Stir lightly directly into the pan and you're done!
Bake for 25-30 minutes at 180 degrees.
Bon appetit!
If you like this recipe, I invite you to subscribe to my Youtube channel!
Share the recipe with the person you would like to enjoy!
With love,
Cezara