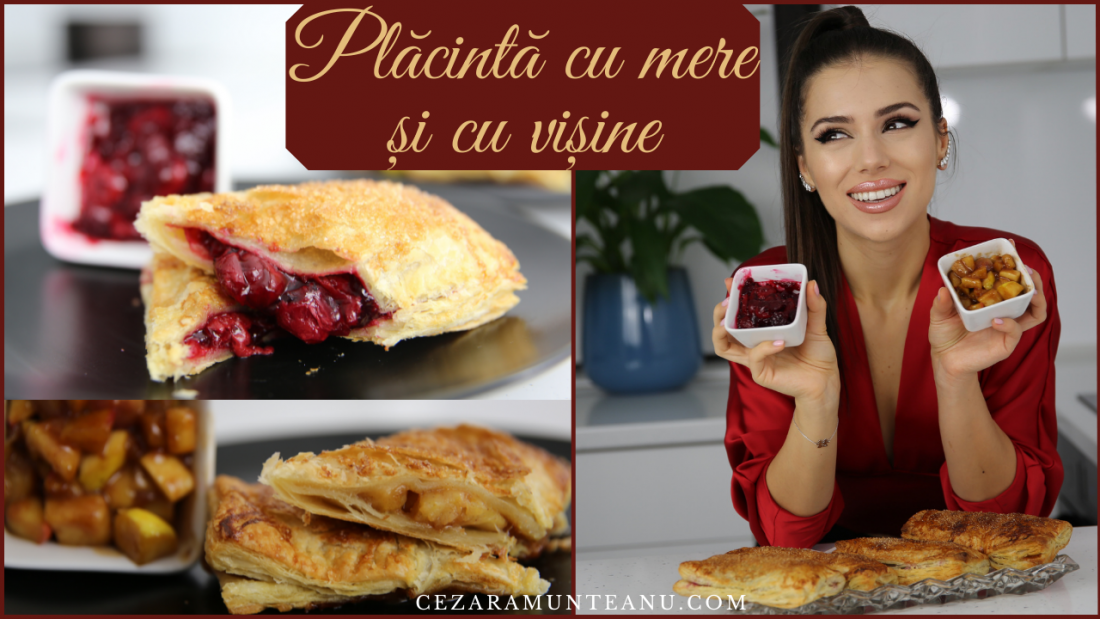 Apple Pie and Cherry Pie Better Than at Mc Donald's (Apple and Cherry Strudel)
I don't know how you are, but I love puff pastry. I love to eat apple and cherry strudels. This recipe went viral on tiktok and everyone said that these pies are much better than the ones from Mc Donald's.
Know that this is so!
Ours are not fried in oil, they are cooked and they are extremely delicious.
The secret to these pies is the filling. I am always disappointed when I buy apple or sour cherry strudels and they have very little filling.
You can prepare them and have them for a busy week or to pamper your loved ones with a good dessert.
Whether you serve them with a coffee, a tea or a glass of milk, I am convinced that you will fall in love with them and that you will never buy them from the simigerie again, because the ones at home are the best!
I leave here the filmed recipe, and below you have all the details.
For 4 pies we will need (2 with apples, 2 with cherries)
a sheet of puff pastry
4 apples
200 g cherries (I had frozen, if they are fresh do not forget to remove the seeds)
5 tablespoons sugar
25 g butter
a tablespoon of cinnamon
a pinch of salt
a tablespoon of lemon juice
an egg for anointing
3 tablespoons cornstarch.
Put the cherries in a pot with 2 tablespoons of starch, 2 tablespoons of sugar and a pinch of salt. Bring to the boil until thickened and stir occasionally.
We clean and cut the apples into cubes. In a frying pan, melt the butter, add the diced apples, with cinnamon, a pinch of salt, lemon juice, 2 tablespoons of sugar and a tablespoon of starch. We leave them until they soften.
When the filling is ready, cut the puff pastry sheet into 4. Put the filling, seal it, grease it with egg, powder it with sugar and put it in the preheated oven for 15-20 minutes at 200 degrees.
Until they become golden and beautiful!
We enjoy them with what we want!
Good appetite!
I sincerely hope you like the recipe!
Don't forget to ring the bell and share it with the person you would like to enjoy!
See you next Wednesday!
If you like the recipe, I invite you to subscribe to my Youtube channel!