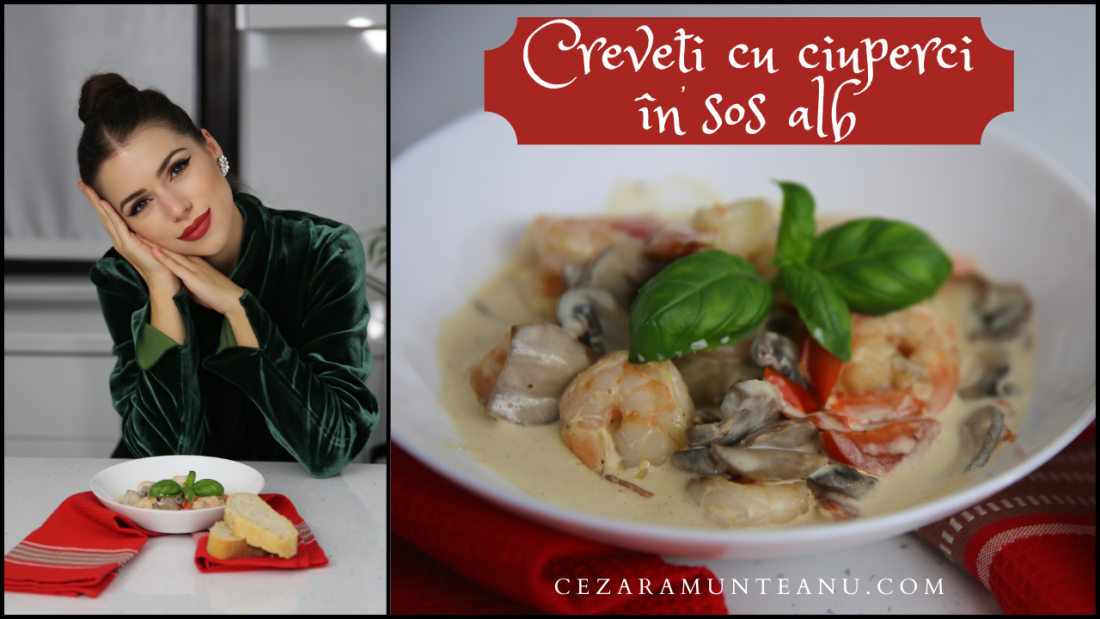 Shrimps with mushrooms in white sauce (A romantic dinner, perfect for Valentine's Day)
Hello dear ones,
Here we enter the month that sweetens our winter, in the period when we are more attentive to our loved ones and try to surprise them.
Given the current context, pandemic, Covid, restrictions, I think a romantic dinner prepared with a lot of love is the ideal way to tell your loved one how much you appreciate him. Whether you want to surprise her or not, I guarantee you that this dish is extremely tasty and easy to make.
Let's make together Shrimp with Champignon in white sauce.
You can't fail!
Here is the filmed recipe, and below I give you all the details.

We will need:
1 Kg of Brown Champignon mushrooms
500 grams of peeled shelled shrimp (or you can use fresh shrimp)
500 ml cooking cream
salt
pepper
basil
200 cherry tomatoes
granulated garlic
6 cloves of garlic
First, we slice the mushrooms. Put a cube of butter in the pan, then add all the mushrooms. Season with salt, pepper, garlic granulated to taste. Let the mushrooms cook. After the mushrooms have dropped, add the cooking cream. We cut the cherry tomatoes and put them over the sauce, together with the crushed garlic cloves. In another pan, melt a cube of butter and put the shrimp in the pan, for 90 seconds on each side. They have a very short cooking time. After the shrimp are ready, and the sauce has acquired a pink hue from the tomatoes, we put them over the white sauce. We mix everything and we are ready to serve them. Garnish with a basil leaf and you're done.
They can be served with pasta or bread (I recommend ciabatta)
If you like the recipe, I invite you to subscribe to my Youtube channel!
Good appetite!
Dearfully,
Cezara