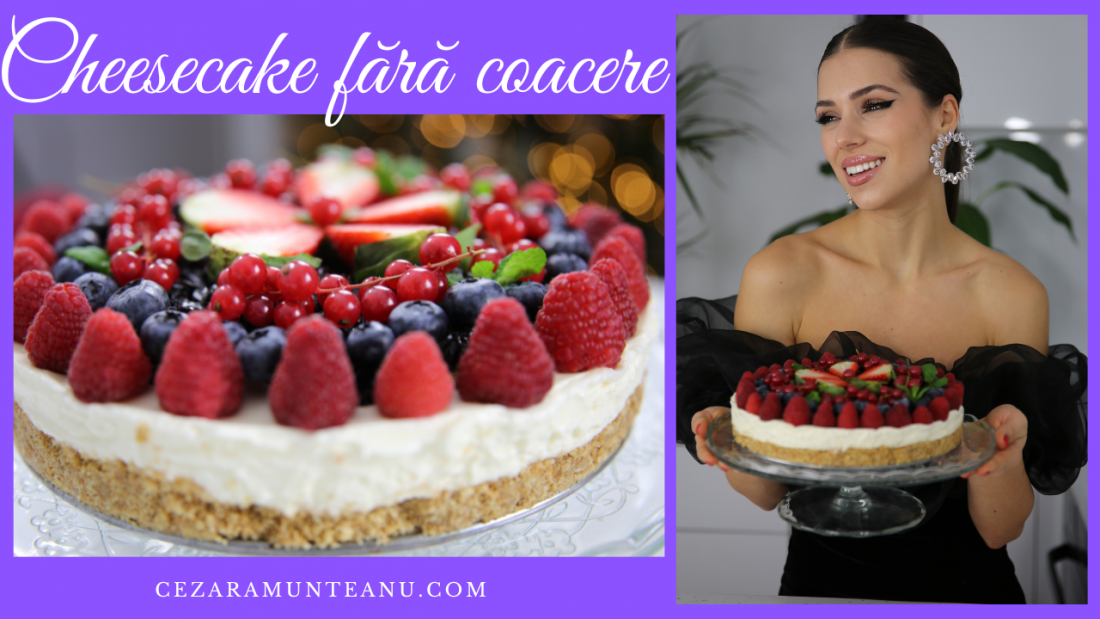 Cheesecake
Hello dear ones,
Glad to see you again at Wednesday's Recipe!
This week I want to make together a dessert much loved by everyone that is extremely simple: Cheesecake.
I discovered this quick and easy recipe and fell in love with it.
Here is the filmed recipe, and below I give you all the details.
We need:
Ring tray
For the countertop:
300 grams of biscuits
100 grams of melted butter
For the cream:
500 grams of Mascarpone
500 grams of cream cheese
250 grams of powdered sugar
a trash of vanilla essence (optional)
For decoration:
Fresh fruits
Frozen fruits
Jam (I used blueberries)
Preparation time: 10 minutes
Difficulty: Low
First we make the cream. In a bowl put the mascarpone cream, cream cheese, powdered sugar and a drop of vanilla essence. Mix with the mixer and leave the cream aside.
Prepare the top: Crush 300 grams of biscuits (in a blender or in a bag with a rolling pin). Mix the biscuit powder with 100 grams of melted butter and place it on the tray. We press it and form the top.
Put the cream obtained earlier over the biscuit top.
And that's it! It was so simple! Leave it in the frizer overnight.
We take it out, decorate it to taste and enjoy!
Good appetite!
I invite you to subscribe to my Youtube channel if you liked the recipe.
See you next Wednesday!
With Love,
Cezara