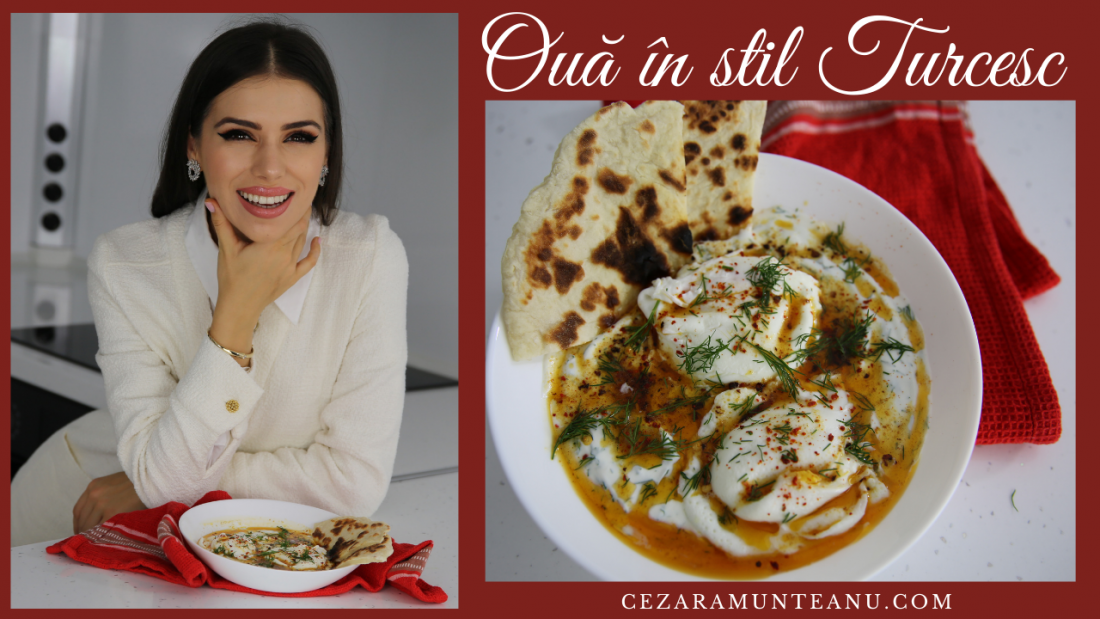 Turkish eggs
Hello dears,
Glad to see you again on Wednesday's new recipe.
Today we make an extremely delicious and fast breakfast together, with a holiday taste and longing: Turkish style eggs.
Poached eggs (I'll explain step by step how we get the best poached eggs) in yogurt sauce. I only feel like it when I think about it.
There was controversy on Tiktok that it was Turkish-style eggs, that it wasn't … what does it matter? The important thing is that they are extremely delicious!
Here is the filmed recipe, and below I leave all the details.
You need:
2 eggs
300 g Greek yogurt
30 g butter
a bunch of dill
cayenne pepper
salt
a tablespoon of olive oil
2 cloves of garlic
Pita bread to serve it
Here is a recipe for Pita bread here on YouTube.
First we boil the water for the poached eggs. The amount of water should not be large, it should be small enough to cover the level of the egg. With the help of a strainer we drain the watery part of the egg white, which makes those small rags in the water and does not look good. Drain a little lemon juice over the egg and whirl in boiling water. Leave the egg for 2-3 minutes depending on how hard / soft you want it.
When they are ready, take them out on a paper towel and tap to remove excess water.
The yoghurt should be at room temperature, if you want you can put it on a steaming pan to heat it. Pell and grate the garlic. Chop the dill and mix it with the yogurt and add salt to taste.
We lay poached eggs over the yogurt.
Put the butter in a pan and let it melt until golden, add the red pepper flakes and a tablespoon of olive oil. Leave for a minute, then pour the butter and pepper sauce over the yogurt and eggs.
Decorate to taste and enjoy with Pita bread.
Good appetite!
I sincerely hope you like the recipe!
Don't forget to ring the bell and share it with the person you would like to enjoy!
See you next Wednesday!
If you like the recipe, I invite you to subscribe to my Youtube channel!